Start Your Day Off Better with Kevin & Amy
We can't thank you enough for spending a bit of your time and day with us - What a gift.  Even now, you could be doing anything else and here you are — Thank you! Our hearts desire is that you come away with a smile on your face, knowing you have a couple of friends you can call on and knowing God loves you full and unconditionally.
"Kevin and Amy in the Morning" is a place to come and be completely yourself. A place that is judgement free, laugh at ourselves and make life just a bit more fun to live.

Kevin and his wife Tammy are Motorcycle and outdoor enthusiast and Kevin is also semi-pro Disc Golfer (by his own account). Amy and her husband, Lloyd, love adventure and the outdoors and lived for a couple of years in a Tiny Home with their family of five, two bunnies and Wallace the dog.
The stuff you and I have to deal with everyday may not be able to be taken away but we can help one another through it.  Thank you so much for being a big part of our lives and sharing yours!
We love when you call, when you come to events or catch up by sending us a message by email at amy@thehousefm.com OR kevin@thehousefm.com or open mic on The House FM mobile app.
~Kevin and Amy
Don't miss out on what Kevin and Amy are saying on air...
A frog leg festival? Surely that went well. 
Maybe this is the new diet to be on! 😂

Have your mornings be even better when you are with Kevin and Amy! You can catch them on your weekdays and the weekends. Get to know your DJ's even better!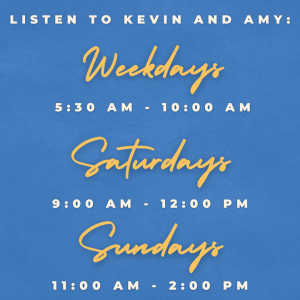 Join Kevin and Amy in the Morning on their Facebook Page

Every week The House has a new blog, just for you! It allows our DJ's to go deeper than what they are able to do on the air. Here are some blogs from Kevin and Amy that they have recently posted.
Learn about Kevin's struggles and victories:
Get to know Amy and her mother's heart: